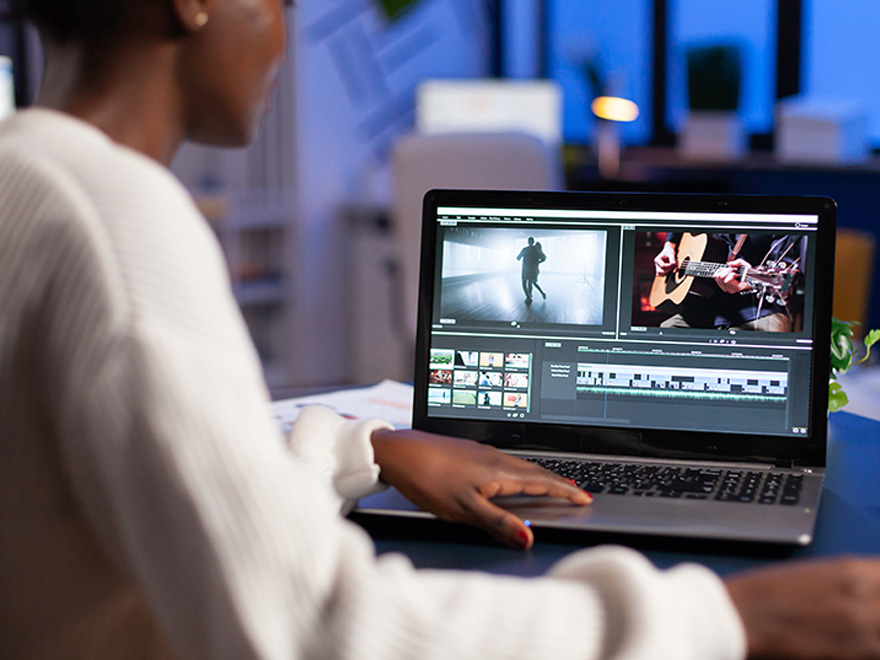 ADOBE PREMIERE PRO CC 2020
This online short course in Adobe Premiere Pro CC 2020 covers entry-level skill expectations for digital video.
The purpose of this course is to teach you foundational skills needed to effectively communicate using digital media tools and covers the following topics:
Working in the Video Industry
Project Setup and Interface
Organising Video Projects
Creating and Modifying Visual Elements
Publishing Digital Media
COURSE DURATION:
As you work through your course material in your own free time, you can pace your studies and determine how quickly you want to progress. As a standard measure, you will have access to the online student portal for a period of 12 months from your date of registration.
COURSE START DATES:
You can start studying this course at any time of the year — there are no specific registration dates! Once you have completed your registration, you will receive your login credentials with 3-5 business days and can start your studies.
COURSE INFORMATION:
This online short course consists of five modules. The course objectives are:
Working in the Video Industry

Identify the purpose, audience, and audience needs for preparing images
Communicate with colleagues and clients about design plans
Determine the type of copyright, permissions, and licensing required to use specific content
Demonstrate an understanding of key terminology related to digital audio and video
Demonstrate knowledge of basic design principles and best practices employed in the video industry

Project Setup and Interface

Set appropriate project settings for video
Navigate, organise, and customise the application workspace
Use non-visible design tools in the interface to aid in video workflow
Import assets into a project

Organising Video Projects

Use the Timeline panel to manage video and audio tracks
Modify basic track visibility and audio levels

Creating and Modifying Visual Elements

Use core tools and features to edit audio and video
Add and animate titles and modify title properties
Trim footage for use in sequences
Transform digital media within a project
Use basic editing techniques and effect pre-sets to manipulate digital audio and video
Use Effect Controls to modify video in a sequence
Manage audio in a video sequence

Publishing Digital Media

Prepare video and audio sequences for publishing to web, screen, and other digital devices
Export and archive video and audio sequences
ASSESSMENT:
For each module you will be required to complete both a pre-assessment and a post-assessment to test your knowledge and competency.
COURSE EXIT OUTCOMES:
Once you have completed this online short course you should be able to use this non-linear editing software to edit digital video for TV, film, and social media.
You will receive a Certificate of Competence from Oxbridge Academy Online.